Gonna sound like a **** here but I was talking about him at games two or three seasons back. I wanted us to make a world class signing who make his name here as opposed to a Robinho/ Kaka/ Eto etc who had already made their name. Wanted him, Pato or Suarez (glad we missed him as he is a first class prick if nothing else).
Now I'll get a bit of humility back. I only heard of him through my dad and brother who used to watch Spanish football religiously. They argued like mad about everything, teams, players, managers. Found their disagreements more entertaining than the football sometimes. The only thing they agreed on was Aguero being class and through them I learned about the guy. I passed this information on freely as if it was my own and when we did sign him I told people this guy will become the best player in England/ the world/ the universe etc at some point in the future.
I fuckin love the guy and Mancini's not wrong to say he could and should be up around the Messi and Ronaldo numbers in goals scored. In ten years time people will be talking about this guy as a legend.
I bought this framed and signed picture of him from the club earlier this season, such is my love for the guy.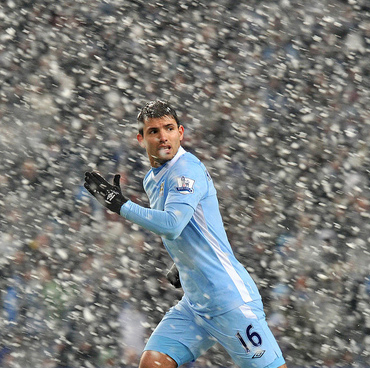 I asked could they send it in the post and they said they'd have to remove the glass, so I went down and picked it up before a match. And I'm glad I did because the glass wipes so easily!