I know some of them people will have already heard about, i was trying to keep to players who should make an impact this season, but for the one's that haven't here goes.
1.
Juan Manuel Iturbe, 17, Wing, Quilmes (Argentina).
I had to have this lad in the top 11. We hear it all the time, "He's the next Messi" or "He's the next Ronaldo" but have we ever heard of a kid that has been compared to both? Well, you have now.
Iturbe leanrt his trade at Cerro Porteno before moving to Quilmes this year. His raw talent was there for everyone to see. He has also represented Paraguay at U20 level at the age of 16 also. That is a huge step up and very rare for any 16 year old.
Genoa are the latest team to show an interest in him as have Spurs, Roma and Real before them. It wont be long before he moves to Europe and starts making it big on the continent.
He has now decided to give his services to Argentina as Messi is his idol, as you can see from the picture above. Another lad im sure everyone will be talking about in years to come.[/b]
2.
Iker Muniain, 17, Wing, Athletic Bilbao.
Undoubtedly the hottest European talent right now. He is also the holder of the youngest debut having been given his first start at the age of 16 years and 15 days, beating Messi's record with Barca by 130 days.
Anyone that has watched Bilbao in La Liga will have seen Iker play and he is only going to get better. Reminds me alot of Adam Johnson right now with the potential to get better and better. I cant hype this kid up enough.
I've wrote about him before and here it is
viewtopic.php?f=1&t=170358&p=3105302&hilit=Iker#p3105302
Here is a video of Iker in action and please remember most of the footage is him as a 16 year old.
I would reccomend everyone watches the video and Bilbao this season to see what he's about.
3.
Jack Wilshere, 18, Attacking Midfield, Arsenal.
Everyone should have heard about this latest Arsenal kid by now. Jack has been at Arsenal since he was 9 yrs old and has represented England at every level, some achievement for a kid so young.
Last season he spent part of it on loan at Bolton and it was there for everyone to see the lad had a gift. His control along with his trickery and vision is years beyond the development of any other player in his age group as he also showed during Arsenal's annual tournament The Emirates Cup.
Wilshere is also another phenomenal talent. I think he'll progress this season and take over from Fabregas next season. I think that is why Wenger didn't want to sell him. I dont think i have seen a youngster that i have been excited about since i saw Joe Cole playing for England at schoolboy level, which seems like years ago now. But for me Jack is a class above what Joe was and that is a compliment to Wilshere.
Here's a video
4.
Philippe Coutinho, 18, Attacking Midfield, Internazionale.
Coutinho came to light 3 years ago as a 15 year old when he scored 3 goals in 4 games in the U15's version of the Copa America. A whole host of European clubs came knocking at the door, and there was a complaint made by Vasco de Gama about an alleged tapping up incident by Real Madrid. It was pretty clear from that moment onwards Vasco would have a fight on their hands to keep there shining light.
Vasco managed 9 months, and Phillipe was off. Not to Real, nor Barca or Villareal who also showed an interest. It was Inter Milan who beat them all to his signature.
Having been labelled as the next Pele or Pato is nothing new for this kid, but i strongly disagree with it. If someone was to say he is the next Kaka, then we might be on the same wave length. His passing, vision and creativity is what seperates this kid from the rest and i'll stick my neck on the line and say his passing will be as good as anyone in the world today, Xabi Alonso, Gerrard etc.
Here's a video of Phillipe
5.
Zezinho, 18, Wing/Striker, Santos.
Zezinho, also known as Jose Luis dos Santos Pinto, also played with Coutinho in the U17 Copa America last year. Zezinho was one of the stand out performers for Brazil in that competition. Liverpool and Arsenal are clubs who has kept an eye on his progress closely but his 35million buy out clause will be far to much for the Scouse and probably Arsenal too.
Zezinho has just about everything, great shot, great passing and enough strength to succeed at the highest level. The only thing this kid might lack is pace, but with his skill he might just get away with it.
Video of Zezinho in action. Ignore the title. I think some stupid gooner got ahead of themselves.
2nd goal in this clip too.
6.
Phil Jones, 18, Blackburn Rovers.
We all should all know about Phil Jones by now. Made his debut against Forest last season in the Carling Cup and has since become a regular in Allardyce's side. I honestly believe that Jones has the potential to become as good as JT at his peak. Only a year and a bit to run on his contract and if City can start sniffing around we might be able to get him via a tribunal and after the Sturridge affair we know how beneficial that can be to the buying club.
7.
Joel Matip, DM/CB 19, Schalke.
Joel burst on the scene last season making his debut against eventual Bundesliga winners Bayern. Even though it seemed Schalke coach Felix Magath had thrown Joel in at the deep end he rewarded that faith by scoring to nick a point and earning the man of the match award.
I saw Matip play a couple of times last season and he is very similar to what we have with Vincent Kompany. Matip, can also play at CB, although DM is his preferred position.
Here is a short video of Joel and followed by pictures.
8.
Alexander Merkel, 18, Attacking Mid, AC Milan.
Merkel should play for Milan this season after making the move from Stuttgart who have produced players like Gomez, Tasci and Khedira. When he does he is going to be someone that alot of people will be talking about. Another German, but born in the great footballing nation of Kazakhstan.
Alex featured quite alot during pre season for AC and will get a chance due to Milan's tight cash restraints. By no means the finished article, the lad has the use of both feet and has a shot that travels. Definately an exciting prospect for AC, and definately the youngster that needs to fill ageing boots.
Here is a video of him against Arsenal this summer
9.
Lennart Thy, 18, Striker, Werder Bremen.
Lennart has been with Bremen now for 3 years and in his first full season for the U17's scored 9 goals in 22 games, not a bad return for a 15/16 year old that season. But better was still to come for Thy, and the following season, still with the under 17's he scored 23 goals in 22 games. A reason why Werder tracked him in the first place. He's carried his goalscoring exploits to international level also, by scoring a hat trick against Russia also at U17 level.
This didn't go unnoticed and here is a quote from the former German boss Joachim Low taken from
http://www.fifa.com/u17worldcup/teams/t ... ofile.html
Quote:
Indeed, four of the players from the recent European Championship squad have already caught the eye of senior team coach Joachim Low. "Mario Gotze was very impressive throughout the tournament and numbers 2, 7 and 9 all played really well, too," said the former Freiburg striker, referring of course to Cologne defender Bienvenue Basala-Mazana, Liverpool midfielder Christopher Buchtmann and Werder Bremen forward Lennart Thy respectively.
Whether Thy feature's with Bremen this season we will have to wait and see, but i didn't want anyone to miss him if he does get a chance. The boy has a big future and can follow in Thomes Muller's footsteps for his country.
Here are a couple of amateur video's of him for Bremen.
10
David De Gea, 19, GK, Athletico Madrid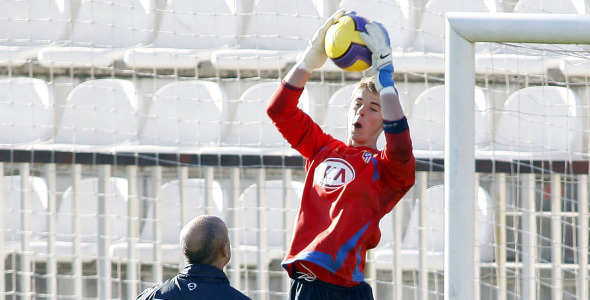 I'm pretty sure everyone has heard of this kid by now, but he deserve's a spot in this top 10. Having pushed out another top class goalkeeper in Sergio Asenjo from their club side, De Gea now looks to be the established No.1 at Athletico and a national call up in the future shouldn't be too far away. If you haven't heard from him, watch out for him this season, i believe him and our own Joe Hart could be the 2 best goalkeepers in the world one day.
Last one and enjoy the video
Since my original post De Gea starred in the Super Cup Final.
2.17